Shopping
Support Allies for Greyhounds by supporting our affiliates
Some of our affiliates will donate a portion of sales back to Allies for Greyhounds. Find goodies for your hounds and support our efforts at the same time. We will be working to add more affiliate links in the coming weeks so come back often!
---
---
Big Dog Boutique
Unlike most style-minded pet stores, our size options do not end at the medium sized dog! Our dog collars are made to fit a wide range of sizes from petite pups all the way up to giant dog breeds. ALL of our collars are made by small businesses that manufacture their products in the USA with American workers. Our specialty is hard to find dog collar styles, buckle martingales (a design we created and pioneered in 2004), teacup size martingales, and collars for-as you may have guessed – extra big dogs.
Visit Big Dog Boutique – Big Dog Boutique
---
Voyagers K9 Apparel
Dogs come in different shapes and sizes. Voyagers K9 Apparel celebrates that fact by specializing in breed specific dog clothing and coats for various breeds. Our winter coat, raincoat, Spring/Fall coat, tummy warmer, hood and booties are designed and made to optimally fit the contours of your dog's body. This provides complete coverage, comfort, and protection. With our dog clothes, your dog will be ready for all the seasons!
See more at: Voyager K9 Apparel
---
K-9 Designs
Come on in with your dog and stay awhile! You have come to the right place for unique, quality, and reasonably priced cool dog products. We make all of our stylish designer dog collars (for all breeds), coats, embroidered silks, and other products. All of our custom made products are made under the "Posh Paw Creations" name right here in the Pacific Northwest. Mention Allies for Greyhounds when you place your order for a portion of your sale to be returned to the group.
Visit: K-9 Designs
---
Quaker Pet Group
Quaker Pet Group is committed to providing pet products that will enrich the lives of pets and their pet-parents world-wide. We offer innovative, solution-based products to meet all of your pets needs.
Find out more at: Quaker Pet Group
---
Trendy Hounds
Trendy Hounds martingale collars, buckle martingale collars, and leashes for any dog. Collars come in widths from 3/4 – 2 inches, and in sizes from x-small to x-large.
Browse their selection: Trendy Hounds
---
P.L.A.Y.
P.L.A.Y. makes quality dog beds with pets, people, and the planet in mind. When we were looking for quality dog beds for our own four-legged friends, we couldn't find one that fit our lifestyle as modern pet owners, so we made our own. Each bed is crafted for maximum comfort and ergonomic support, feature stylish and easy to care for covers, and are made from sustainable materials to protect Mother Earth. We understand the needs of today's pet owners, and craft quality dog beds to meet these needs through multiple washes, days in front of the tv, and nights when your bed or lap is unavailable.
See more at: Pet Play
---
My website presents greyhound booties with a universal greyt fit designed exclusively for greyhounds to provide comfort and protection. Sadly the afternoon of November 8th, 2012, the angels came and abruptly took Slick from us. This project is now his legacy. The website and booties are dedicated to Slick who was my inspiration and model. Slick hopes that his fellow greyhounds will like his booties!
Helping the Hounds!
For each product purchased a donation will be made to the greyhound organization designated by the buyer.
---
Welcome to Southern Cody Designs!
Southern Cody Designs was named in honor of our first greyhound. We adopted our first greyhound, Cody, in November 2010. Not long after we found ourselves becoming more and more addicted to the breed and before we knew we were helping with meet & greets, fostering, and anything else we could get involved in with the hounds.
Find us on Facebook to keep up to date on new products & information:facebook.com/southerncodydesigns
Go Shoping at: Southern Cody Designs
---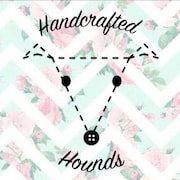 Specializing in handmade martingale collars for your lovable canines.
For fun shopping visit:Handcrafted Hounds
---
Don't just take your dog for a walk… Take your Walk for a Dog! Go to WoofTrax.com, download the app, and support your local animal shelter every time you walk your dog.
Support Allies for Greyhounds by walking your dog!
---
Cover that Grey
Custom Wearables for the Discriminating Greyhound (and ' Un-Hounds')
Give them a look at: No Nude Hounds
---
Chilly Dogs® is a dog coat designer and manufacturer, located in Ottawa, Canada where we experience all types of weather! We love being outside with our dogs and don't want to be limited by the weather. Our coats are easy to put on and they will keep your dog warm, dry, and clean. Quality should never be compromised; our goal was for our products to have the same high standards we expect from our own outdoor ski or trekking gear. Our customer tell us we have succeeded as our coats last many years. We receive reports of dogs loving our coats for their lifetime.
Our product line includes the Great White North™ coat for winter, Trail Blazers for fall and spring as well as winter for heavier-coated dogs, Rain Slickers for rain and windy days, polar fleece Sweaters for extra warmth or indoor use, Soaker Coats for cooling down on hot days or drying them after baths or swims, Snoods (head muffs) and more.
We strive to fit all breeds from small Chihuahuas to Great Danes. We welcome deep chested breeds like the Doberman, Pit Bull and Weimaraner.
Chilly Dogs® has specialty sizes to fit the unique Long & Lean body types of Greyhounds, Whippets, Italian Greyhounds and Mini Dachshunds.
Get them decked out for the weather! Chilly Dogs
---
All of our collars, leashes and harnesses are proudly made in the U.S.A. with careful attention to the safety, functionality and comfort for your dog, as well as a keen eye for design. Here at 2 Hounds, we are dedicated to providing products you will love. We make walking your dog fun!
Go Shopping : 2 Hounds Design
---
Wilderdog strongly believes in the bond between (wo)man and dog. Your pups favorite place to be in the world is with you, going somewhere, anywhere! Whether you live near some epic wilderness and you go backpacking or climbing or alpine touring, or in a big city with dog parks and dog-friendly coffee shops, we encourage you to get out there with your fur friend. If he could give you dog hi-fives he would.